VIRNECT and CelcomDigi sign MoU to develop experiential industrial Metaverse learning and education.
CelcomDigi Berhad (CelcomDigi) and VIRNECT (438700: KOSDAQ), a Korea-based technology company that specializes in the development and commercialization of industrial extended reality (XR) solutions, have sealed a Memorandum of Understanding (MoU) to explore the effect of experiential learning and education using metaverse, for multiple Malaysian universities.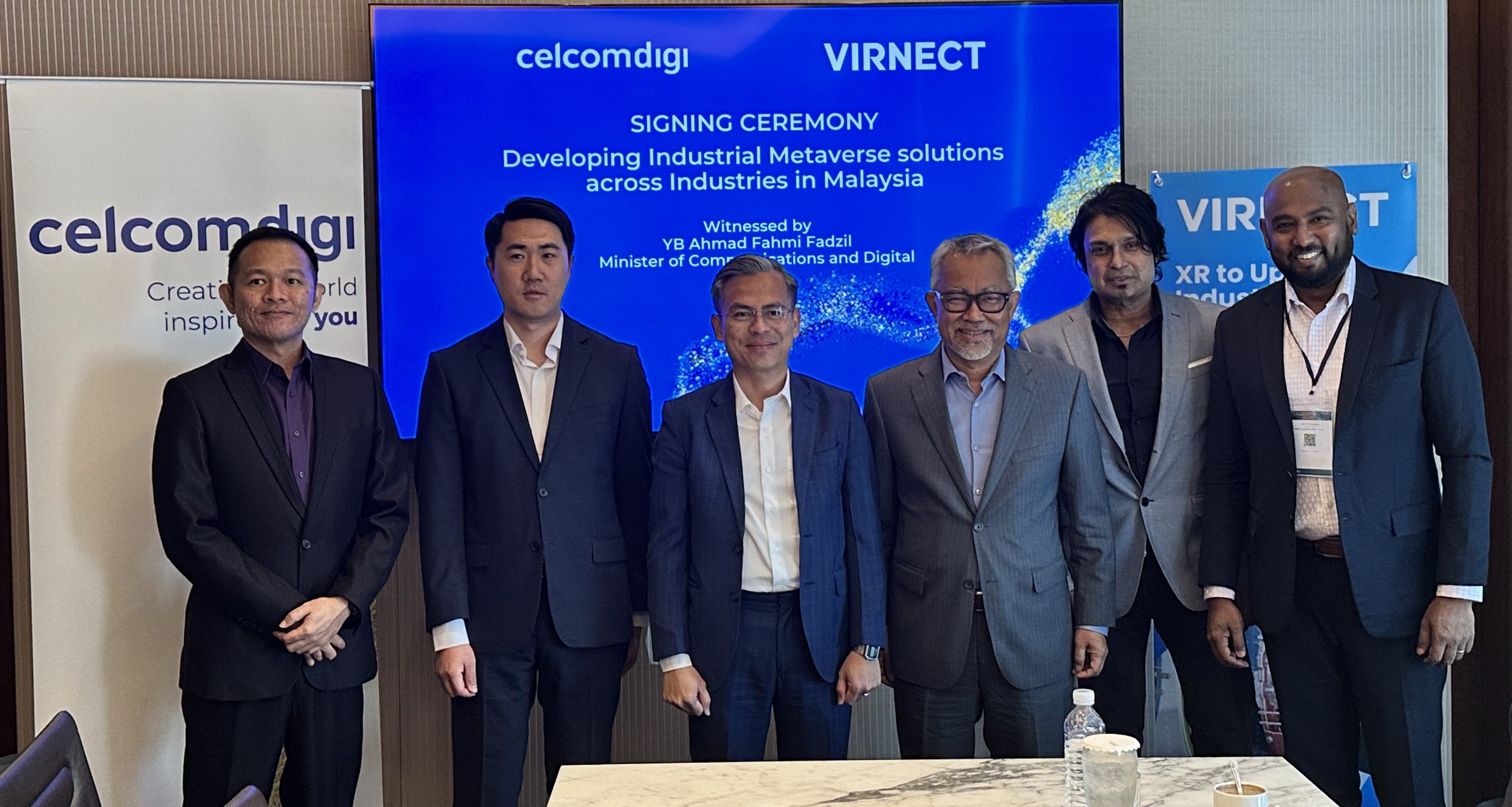 Under the MoU, both organizations will collaborate to co-create industrial virtual learning programs reimagined using metaverse and AI-based solutions. Utilizing the metaverse platform across various learning segments, students will be trained with an immersive learning and education method that will potentially benefit enterprises such as cybersecurity, healthcare, robotics, and oil and gas engineering.
CelcomDigi, via its Innovation Center, aspires to build the nation's most inspiring innovation ecosystem by teaming up with VIRNECT and XRA, VIRNECT's local partner and support team in Malaysia, to deliver strategic initiatives leveraging the capabilities of cutting-edge metaverse and AI-based technology solutions into higher learning institutions in Malaysia.
The collaboration aims to produce industry-ready graduates skilled in metaverse applications, building Malaysia's digitized society through cutting-edge solutions and technology. Local graduates will be able to harness the metaverse's capabilities and transform beyond traditional knowledge and learning programs, accelerating the development of Malaysia's future talents with AI-based digital growth.
The Memorandum of Understanding (MoU) was signed at Westin Chosun Hotel on Sep 8, 2023, by Datuk Idham Nawawi, Chief Executive Officer of CelcomDigi Berhad, and Tim Ha, Chief Executive Officer of VIRNECT. The Minister of Communications and Digital of Malaysia, YB Fahmi Fadzil witnessed the signing ceremony.
Commenting on the collaboration, CelcomDigi CEO Datuk Idham Nawawi said, "We are committed to bringing the best innovation that will significantly benefit the development of Malaysian industries by utilizing the real values of 5G technology. We are excited to collaborate with VIRNECT, a leading industrial XR technology expert, to develop and co-create experiential learning and education using Metaverse solutions. This strategic collaboration underscores our position of leveraging metaverse, 5G, and AI technology to potentially establish innovative and productive digital solutions for Malaysian enterprises, spurring Malaysia's digital ecosystem into a new era of digital leadership.
VIRNECT's Southeast Asian Distributor, XRA, has been vital to localizing cutting-edge technology in Malaysia, and within this alliance, the company will continue spreading access to technology. Havene Liew, President of XRA, was "excited to partner with VIRNECT and CelcomDigi to spread XR technology in Malaysia. Through this collaboration, we aim to socialize the power of XR across the nation, enabling them to enhance productivity, efficiency, and innovation.
Tim Ha, CEO of VIRNECT, celebrated the collaboration: "We are immensely grateful to have partners like CelcomDigi and XRA who share our passion for advancing technology to enhance how organizations work, learn, and communicate," he expressed. "South Korea's leading industrial company has leveraged XR technology to enhance data understanding and collaboration. As a global trendsetter, their success sets the stage for similar advancements in Malaysia, promising increased productivity and innovation across industries."