With Twin, you have flexibility to monitor and maintain your facility remotely.
Twin allows you to build a virtual 3D model of an entire industrial site and then link it with real-time data so you can remotely monitor it in real time. With Twin, you can optimize a complete workflow by predicting, controlling, and managing the overall facility or operation.
What Can Twin Do For Your Business?
Increase Your Operational Efficiency
Decrease Your
Carbon Footprint
Optimize Your Workflow & Productivity
Monitor your facility from anywhere in the world
Link with other XR platforms to create a powerful, intuitive collaboration system to form the future of your facility
What Twin Looks Like In Action
When you decide to capitalize on the power of a digital twin, our team of specialized technicians will work with you to create an exact digital replica of your facility. That replica will relay real-time information, including facility data, worker locations, equipment status, and more. This is your virtual command center.
From there, you'll be able to maximize your operational efficiency, find and fill productivity gaps, and improve your bottom line.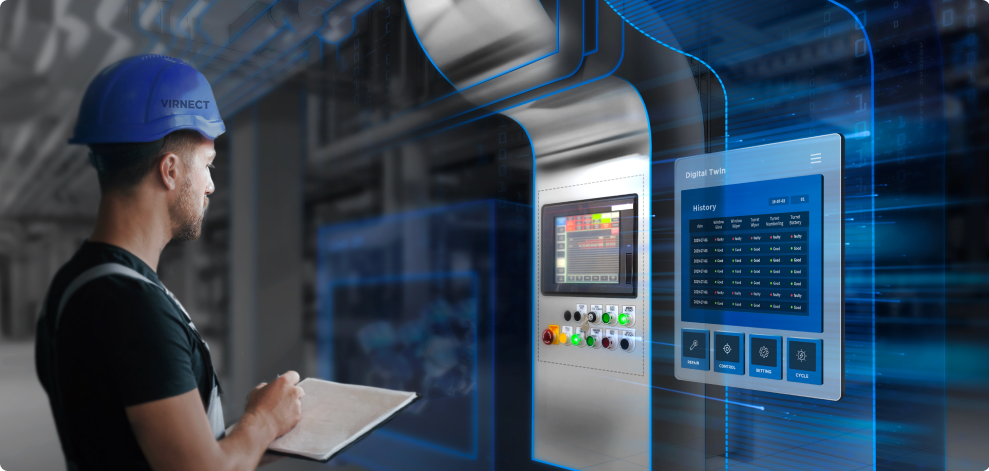 Types Of Digital Twins
Twin allows you to create 4 different types of digital twins for maximum usage.
Render a realistic, 3D twin of your product to maximize your product's design and quality.
Use a model of your production process to monitor real-time data and maximize productivity through information access.
Production Performance Twin
Similar to the Production Twin, this type of digital twin allows you to break down the performance of your processes to maximie your facilities.
This twin describes how individual pieces work together to form a complete asset. This allows you to not only confirm the durability and usability of individual components, but explore the entirety of the system in depth.
Monitor Your Facility In Real Time
Check in from anywhere in the world to monitor facility data, on-site images, equipment status, worker location, and maintenance needs.
Run Twin's 3D Model On A Variety Of Devices
VIRNECT offers a unique 3D rendering process that provides a "lightweight" 3D model. This model can be viewed on a variety of devices, not just systems designed to view 3D models.
Collaborate With Other Systems
Twin is incredibly versatile with integration options beyond VIRNECT platforms. Additional integrations open up endless possibilities for your organization's digital twin.
Link Your Facility - Even Analogue Equipment
Our intuitive technology is able to take older equipment - that is still analogue - and render them in a 3D environment, including real-time data feed.
Support Mobile Device Use
You do not have to use a designated app for Twin. The ability to use a web browser opens up device usage opportunities.
Monitor Using On-Site Video
A 360PTZ camera is able to view your facility in all directions, allowing you to see your facility as well as monitor data.
Manage Your Facility's Environment
Twin does more than relay equipment data, it also provides real-time environmental updates through the thermal imaging camera (FLIR) and IoT sensor (relaying gas, vibration, fine dust, temperature, humidity, etc. information).
Track Work History
Our AI-based intelligent monitoring system and indoor locational measurement technology allows you to identify the location of employees on-site in real-time.
Locate Facility Operators
Our AI-based intelligent monitoring system and indoor locational measurement technology allows you to identify the location of employees on-site in real-time.
Twin is what turns operational gaps into competitive advantages.
Using Twin to create a digital replica of your facility, you can find your gaps and transform them into advantages. You can run your facility from anywhere in the world, using this powerful virtual command center. No matter where you are, you can know exactly what is happening, what went wrong, and what went right.
Twin is the epitome of XR: intuitive technology designed to optimize your organization and improve your bottom line.