XR: bringing new levels of safety and customer satisfaction to AEC.
XR allows you to visualize the world around you in a very detailed way: understanding underground infrastructure before you break ground, seeing complex building supports that aren't built, and more. With this visualization behind your project development, you can expedite inspections, improve safety, and optimize project completion.
Bring the construction site to your office. Bring innovation to your clients.
XR is the innovation you've been looking for to improve your customer experience, increase on-site safety, and expedite projects.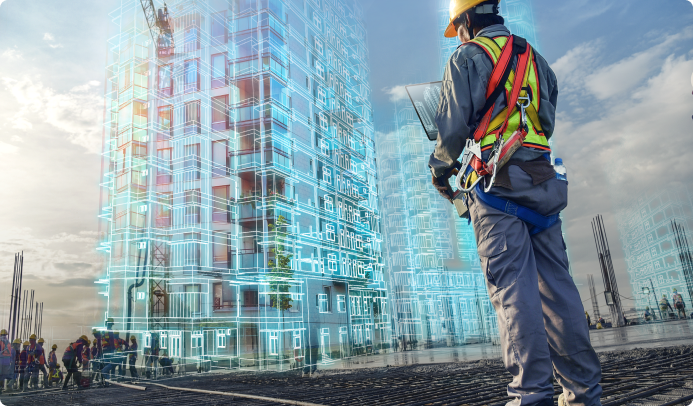 Significantly Reduce Travel Costs
By bringing the construction site to your office through XR technology, you can go a long way to decrease or eliminate travel costs. Engineers, architects, and even clients can now be on-site mid-construction from the comfort of your office.
Remotely Inspect Job Sites
Using Smart Glasses and other XR technology, you can take a stroll through a construction site without leaving your office. This will enable you to regularly check on projects all over the country incurring the travel costs.
XR allows you to compare digital models, with photos, notes, and more, to the BIM model. This eliminates the need for repeated inspections and lowers the margin of error.
With the rise of remote work, highly qualified people want to work for innovative companies from anywhere in the world. By opening up the doors with XR, you will be able to work with talent from all over the world. You no longer need to find someone willing to move and pay their moving expenses. They can work from the comfort of their home office.
Improve Employee Retention
Employees are looking for companies who are innovative and care about their well-being. With our XR technology, we have seen a reduction in workspace accidents and, in turn, an improvement in employee retention - including with younger employees.
Accelerate And
Improve Planning
From the beginning, you can design comprehensive layouts that take into account complex underground infrastructure and aboveground reinforcements. Without cumbersome physical blueprints, you'll have more flexibility to adapt and change designs easily.
Improve Project Management
If you want ease of management, XR is what you are looking for. Allowing you to plan extensively, build different situations easily, check-in on site without leaving your office, and more, XR is the most comprehensive project management tool on the market.
Improve Customer Experience With
Digital Project
At the heart of a successful business are satisfied customers. By providing them with digital projects they can visualize and walk-through before you start building, there will be fewer fixes and misunderstandings alongs the way.
Increase Information Access
VIRNECT's XR platforms are designed to be highly accessible: viewable on any number of tablets, phones, and computers. Our platforms also offer integration with your autonomous vehicles.
Decrease Learning
& Developing Costs
With XR technology, training is simplified. As an technigion views equipment while wearing Smart Glasses, they will see an overlay of 3D models, exploded view diagrams, step by step instructions, and more. This not only improves employee retention, it expedites training: saving you time and, in turn, money.
XR offers powerful solutions to address productivity gaps.
Our suite of XR platforms are designed to improve your customer experience, improve worker safety, and enhance your project management.

Remote brings the worksite to your office.
VIRNECT's Remote uses XR technology, like Smart Glasses, as an extension of the software to improve collaboration and allow you to monitor from a distance. When someone is wearing the Smart Glasses, you'll be able to see exactly what they are looking at. As problems arise on-site, an engineer can tune in from afar to address the issue without traveling on site.
But it doesn't stop at Smart Glasses. Remote works with an array of equipment, like autonomous vehicles, to give you a comprehensive understanding of what's happening on site.