XR is the technology designed to improve training, transform fleet maintenance, and maximize productivity.
XR allows you to visualize the world around you in a very detailed way: understanding underground infrastructure before you break ground, seeing complex building supports that aren't built, and more. With this visualization behind your project development, you can expedite inspections, improve safety, and optimize project completion.
Maximize the power of your data with XR: predict maintenance, monitor equipment, and improve your bottom line.
Moreover, XR allows you to communicate effectively with overseas operations and collaborate better: eliminating travel costs, removing the language barrier, and
expediting repairs.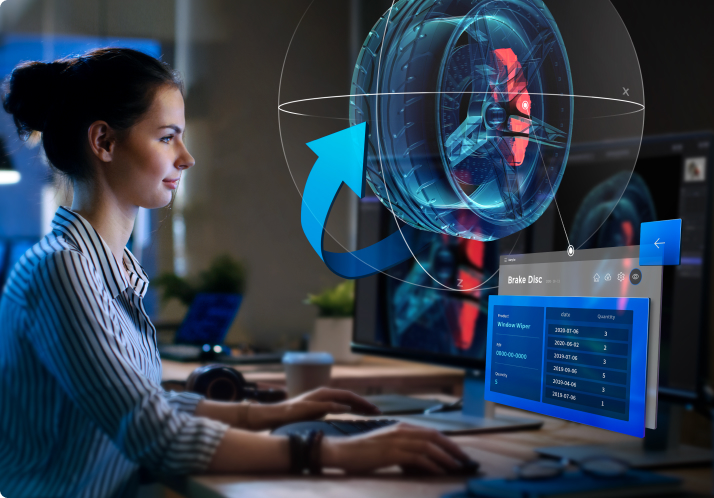 Collaborate With Experts All Over The World
XR is the ultimate in collaboration tools. It goes further than talking to people: it allows experts from all over the world to brainstorm and collaborate as if you were standing in the facility together. This is a powerful virtual experience that can expedite repairs and improve first-time fix rates.
Remotely Maintain Equipment
XR allows you to remotely check-in on your equipment, machine health indicators, and operational metrics in real-time. With your metrics constantly at your fingertips, issues can be caught early and quickly dealt with. You can also relieve stress and pressure on those who are on-site, improving employee morale.
Remotely Inspect Facilities
No matter where you are in the world, XR offers the ability to remotely inspect facilities. You can monitor as if you were standing on-site yourself. As issues arise, you can assist and troubleshoot in real time.
Using the equipment you already have, XR helps you capitalize on your data to predict maintenance. By predicting and conducting maintenance, you will maximize productivity, decrease downtime, and improve operational efficiency.
Maintain Operational Fleets
One of the most powerful aspects of XR is being able to see instructions as you need to complete them. Using hardware, like Smart Glasses, technicians and on-site laborers can see detailed overlays explaining exactly what needs to be done. This frees up both hands to work and improves accuracy.
Improve Employee Retention
Employees are looking for companies who are innovative and care about their well-being. With our XR technology, we have seen a reduction in workspace accidents and, in turn, an improvement in employee retention - including with younger employees.
Optimize Your
Logistics
With predictive modeling and maintenance, XR can help you plan and execute efficient transportation and storage of finished products and assembly items.
We know speed is of the utmost importance when it comes to fixing down manufacturing equipment. With the ability to remotely inspect machinery, your team of experts can fix problems as they arise without having to send a specialized technician to the facility.
Decrease Learning
& Developing Costs
With XR technology, training is simplified. As a technician views equipment while wearing Smart Glasses, they will see an overlay of 3D models, exploded view diagrams, step by step instructions, and more. This not only improves employee retention, it expedites training: saving you time and, in turn, money.
With the rise of remote work, highly qualified people want to work for innovative companies from anywhere in the world. By opening up the doors with XR, you will be able to work with talent from all over the world. You no longer need to find someone willing to move and pay their moving expenses. They can work from the comfort of their home office.
VIRNECT offers powerful solutions to address the productivity gaps in your industry.
XR is the difference between a competitive edge and an innovation slump.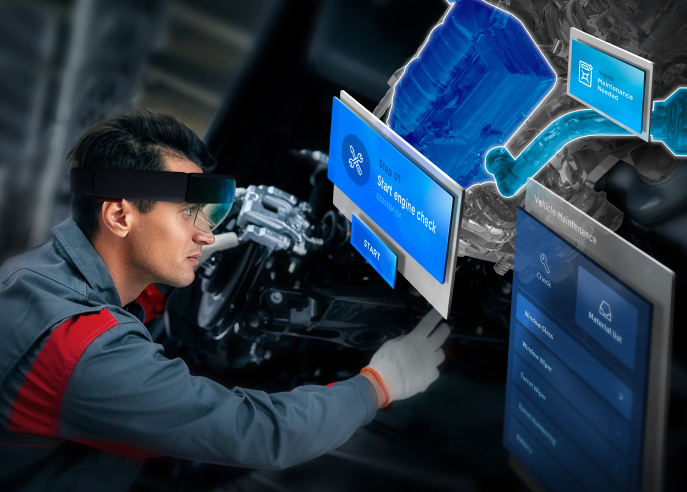 Remote helps you maximize logistics and connect globally.
VIRNECT's Remote is an XR software that extends to physical equipment, like Smart Glasses and cameras, allowing you to track what's happening, improve training, decrease training costs, and mitigate the risk of accidents. From providing an overlay with instructions, walkthroughs, and manuals to help workers visualize processes to cameras that let employees know what hasn't been done yet, Remote is a powerful solution.
Remote also improves collaboration across the world. It allows people to tune in and monitor facilities from anywhere, essentially eliminating travel costs and improving company connection.

Make allows you to create powerful, interactive, and intuitive XR content.
VIRNECT's Make is a premier XR content creation tool that anyone can use. It is an intuitive platform that allows you to design XR content, workflow instructions, and digitize your assets at scale. Using Make, you can reduce or eliminate the need for cumbersome manuals. Instead, you'll have comprehensive and visualized instructions.

View allows anyone to see XR content right in front of them.
VIRNECT's View allows you to view AR content on a wide array of platforms. It complements Make extremely well and is very accessible. Using View, you can visualize XR content on smartphones, tablets, and computers. For example, a pilot can hold a tablet up to a cockpit and see instructions overlaid on the instruments. This can help expedite and reinforce learning and development.
See exactly what VIRNECT can do for you. Speak to one of our experts to learn how XR can impact your organization!