VIRNECT joins forces with the SYNERGISE initiative to revolutionize disaster management on a global scale.
As an internationally funded project, SYNERGISE is dedicated to crafting an Integrated Toolkit for Collaborative Response and Enhanced Situational Awareness (NIT-CRES), aimed at bolstering the efficiency and safety of first responders during life-saving missions. The toolkit is set to redefine disaster management by improving collaboration among first responders and enhancing mission effectiveness and victim detection in complex scenarios.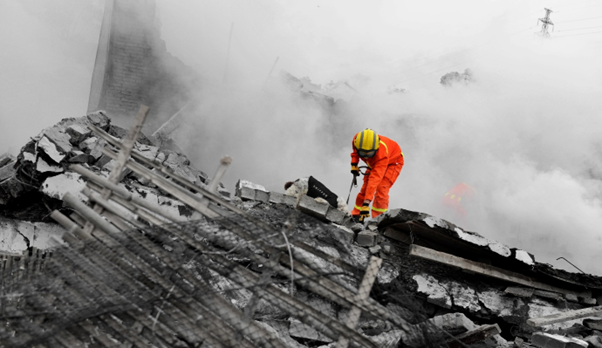 ©istock/Chinnapong - First responder searching for buried victims.
A diverse consortium of eighteen partners from Europe, Japan, the Republic of Korea, and the United States, including VIRNECT, will collaboratively design, develop, integrate, deploy, test, validate, and demonstrate the Novel Integrated Toolkit. This comprehensive solution comprises an array of tools and services designed to:
Elevate situational awareness and sense-making, enabling first responders to autonomously explore incident sites, indoors and outdoors, for effective victim detection.

Provide real-time information about responders' positions, vitals, and threat analyses to enhance operational safety.

Foster collaborative response and resource management by sharing and updating a common operational picture across deployed teams, command chains, and participating agencies.

Equip first responders with novel, affordable, customized response tools as operational assets.
The Novel Integrated Toolkit combines innovative technologies, including robotics for site exploration, advanced wearables for vital monitoring and hazard detection, localization systems, augmented reality, AI-powered data synthesis, rapid communication systems, and an interoperable Incident Management and Command and Control System. These technologies will undergo rigorous testing and evaluation in real-world scenarios, with input from response agencies to continually refine their development.
Sabine Lackner, President of the German Federal Agency for Technical Relief (THW), explains the essence of SYNERGISE, stating, 'This collaboration bridges the operational expertise of search and rescue teams with cutting-edge technological capabilities, facilitating swift and safer victim location during rescue missions.'
Echoing this sentiment, Evangelos Sdongos, Technical Coordinator of the project, emphasizes the core mission: 'Saving lives and ensuring responder safety remains the paramount goal in disaster response. SYNERGISE combines advanced technology to enhance the safety, situational awareness, sense-making, and collaborative incident management of first responders.'
Tim Ha, CEO of VIRNECT, shares his enthusiasm, affirming that 'Our collaboration within SYNERGISE exemplifies VIRNECT's commitment to serving humanity through technology. We're dedicated to enhancing the safety and effectiveness of first responders in disaster management. With our innovative augmented reality solutions, we aim to democratize knowledge, provide advanced tools, and redefine collaborative response and situational awareness standards.'
In addition to first responders, the SYNERGISE initiative involves academic and research organizations, as well as small and medium-sized companies, all contributing to the development and commercialization of the Novel Integrated Toolkit. This multidisciplinary approach ensures that the technology serves diverse needs effectively.
SYNERGISE stands for 'A novel integrated SYstem of Systems streNgthening tEchnical and logistical capacities to ensure better Response to emerGencies by synergIStically addrEssing first responders capability gaps.' The project is jointly funded by the European Union's Horizon Europe research and innovation program, the State Secretariat for Education, Research, and Innovation, R2 Network from the United States, the Japan Science and Technology Agency, the Korean Ministry of Science and ICT, and the Korea Electronics and Telecommunications Research Institute. This collaborative endeavor began on September 1, 2023, and is set to continue until February 28, 2027.