VIRNECT Stock Listed – Paving the Way for Improved Learning, Collaboration, and Communication
We are thrilled to announce a major milestone in VIRNECT's journey as we are now listed on the KOSDAQ trading board of the Korean Stock Exchange (438700: KOSDAQ). This marks a significant step forward in our mission to revolutionize industries with our proprietary AR technology and diverse portfolio of XR solutions.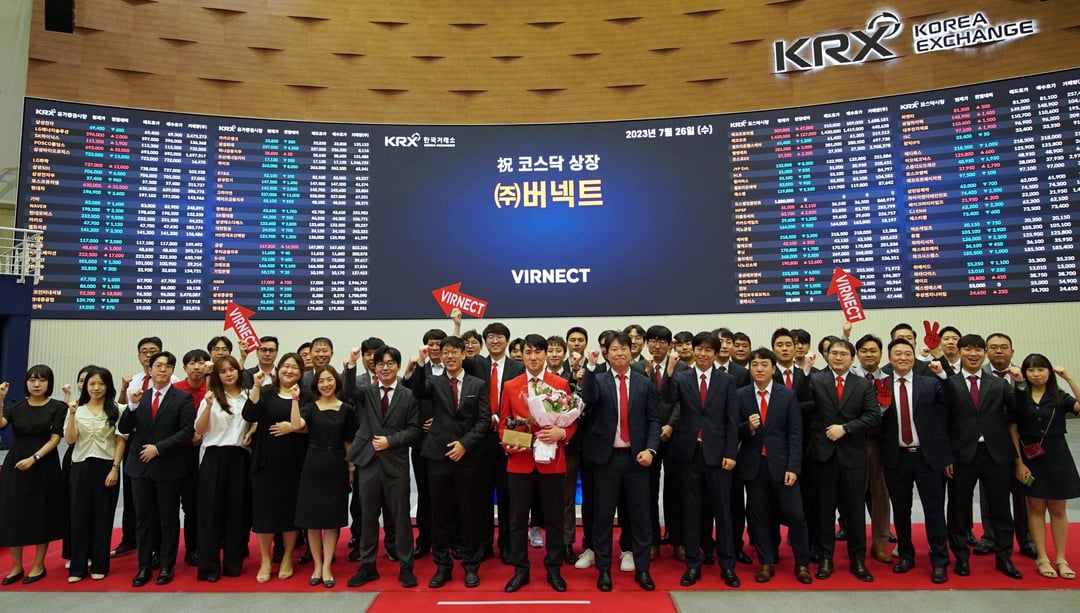 Unveiling VIRNECT's Path to Innovation:
Since our inception in 2016, VIRNECT has pioneered the industrial XR industry, leveraging our internal expertise and learning from our valued customers to create top-of-the-line solutions. Our dedication to customer-centricity has allowed us to serve a diverse range of clients, including renowned Korean conglomerates and Governmental institutes, as well as gain a foothold in the B2C market.
At the heart of VIRNECT is our exceptional team, led by CEO Tim Ha, who hails from KAIST UVR Lab. With years of experience driving global market leaders' technological advancements, we have developed game-changing solutions like Remote, Make, View, and Twin, catering to various industries needs.
A Global Presence:
VIRNECT established a research center in Vienna, Austria, home to numerous global AR tech companies since its early days. This center has evolved, becoming an independent entity. Now the American branch and the European office are preparing for market entry in their respective geographies. On this initiative, the company launched SQUARS in Europe, a complete web-based XR platform, showing a promising start. VIRNECT is now entering both markets for industrial as well as advertising, media, content production, and e-commerce augmented reality (AR) solutions.
Confidence of Investors:
On the institutional investors' roadshow, the company got a lot of interest as the stocks were oversubscribed by a ratio of 1,520 to one, even after raising the initial offer of 3,540,000 stocks with additional 320,000 shares. On the other side retail stocks were oversubscribed 1,311.65 times, pushing the initial offer price to KRW 16,000 (about USD 12.57), surpassing the upper proposed range from KRW 11,500 to KRW 13,600 (USD 9 to 10.7.) In total institutional and retail investors pledged KRW 5.04 trillion (about USD 4 billion) in margin deposits to gain access to the initial public offer.
CEO's Gratitude and Aspirations:
CEO Tim Ha expressed gratitude, saying, "I extend my heartfelt appreciation to everyone who has supported us to reach this milestone, especially to all the dedicated employees who have led VIRNECT to its current position." He continued, "Now that we have been listed, we at VIRNECT will keep striving to communicate with investors and customers, continuously work towards enhancing corporate value, and establish a stable profit structure. We are committed to developing the best XR solutions, enabling customers to learn, work, and communicate more effectively. With a customer-centric approach, we will keep pushing the boundaries, seeking new approaches, and challenging ourselves to solve existing problems. Through listing, we are determined to leap to become a global XR technological leader."
Funds raised from the listing will be allocated for new business ventures, platform development, marketing expenses for overseas expansion, and recruitment of research and development talent.